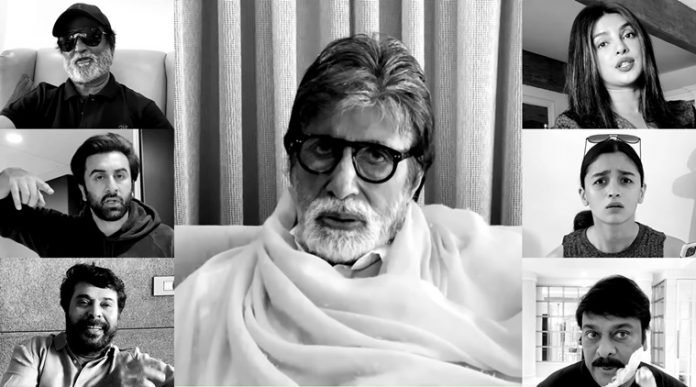 Amitabh Bachchan, Priyanka Chopra, Rajinikanth, Ranbir Kapoor and other super stars from the Indian Film industry came together for a short film about the importance of self- isolation. The income made from the film will be used as a relief for daily wage workers of the film industry who are affected by the lockdown due to Corona  virus.
To create awareness of the pandemic, actors from different film industries came together on screen to emphasise on the importance of staying home and maintaining social distance. It was virtually directed by Prasoon Pandey.  The Short film stars Amitabh Bachchan, Priyanka Chopra, Rajinikanth, Ranbir Kapoor, Mohanlal, Mammootty, Chiranjeevi, Diljit Dosanjh, Alia Bhatt, Prosenjit Chatterjee and Shiva Rajkumar. The story revolves around the family of Amitabh Bachchan. It starts with the Big B missing his sunglasses and with everyone's effort finding it.
In the short film, the actors converse in their native language and are seen communicating with each other quite well. The parts of each actor were shot at their home and was then edited to make a film.
In the end, Amitabh Bachchan is seen saying, "We all made this film together, but none of us ever stepped out of our respective homes. Every artiste shot his/her section in their own house. No one stepped out of their homes. You too please stay indoors. That is the only way to keep yourself safe from this dangerous virus. Stay home, stay safe."
 He also states that the other reason this film was made was to convey that the Indian film industry is one and there is another large family of workers which supports them and works with them.
He said, "We all have come together and teamed up with sponsors and TV channel to raise a fund. And this fund will be distributed to our workers and daily wage earners to provide them with some relief in these tough times."
The short film, Family, has been supported by Sony Pictures Networks India, Kalyan Jewellers and Amitabh Bachchan.
Watch the short film here: